Posted in
Training
: Dec 20, 2012, 11:16AM
INFERNO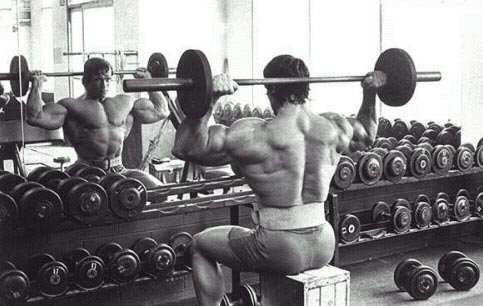 WEEK 7, DAY 3: SHOULDERS

SEATED BB SHOULDER PRESS
DID TIBIALIS RAISES SUPERSETTED
100 x 25
110 x 20
120 x 15, 15
130 x 15
VOLUME = 10250 (6790 first week; 7000 second week; 8580 third week; 5600 fourth week; 12500 fifth week; 6070 sixth week)

SMITH BNP
DID SEATED CALF RAISES SUPERSETTED
70 x 15
80 x 15, 15, 15
VOLUME = 4650 (4980 LAST WEEK)

EZBAR FRONT RAISE
DID SEATED CALF RAISES SUPERSETTED
40 x 10
50 x 8, 8
VOLUME = 1200 (1380 LAST WEEK)

HELLCENTRIC REV PEC DEC
60 x 8 + 6 NEGATIVES
65 x 8 + 6 NEGATIVES
70 x 8 + 6 NEGATIVES
VOLUME = 2730 (5500 first week; 6400 second week; 6750 third week; 6750 fourth week; 2640 fifth week; 3640 sixth week)

WORKOUT THOUGHTS
>> Good shoulder day, felt really swole and rounded

>> Didn't feel like going but took a little nap and that shook off the tired from my eyes. Now to eat as like I said above, I haven't eaten much in the last two days. Can't let this hard work go to waste!!!
MEALS
MEAL 1:
1c Egg Whites; 2 Whole Eggs; 1/2c Oatmeal (1:00pm)
MEAL 2:
7oz Pan-Fried Steak; Organic Winter Squash (3:00pm)
MEAL 3:
Pasta w/Prego; 6oz chicken (5:00pm)
MEAL 4:
2 Slices Organic Bread w/Real PB (8:00pm)
MEAL 5:
3oz Vermont Cheddar Cheese; 10 Ritz; Glass of wine (10:00pm)
Comments are closed for this entry.