Posted in
Training
: Oct 7, 2007, 2:45PM
http://debbixler.com/, a self-described "food geek" competed in last night's NABBA Women's Physique competition. She's tall and slim, like me, so I was curious about a physique competitor on the more human side of the diesel scale of bodybuilding. I asked if I could interview her for a blog entry here on BodySpace. She was actually sitting in her car and working on http://www.wowyouarereallylucky.com/body-builders/is-competitive-body-building-healthy.htm on her laptop while awaiting the start of the evening show. She agreed to the interview and got out of her car to share a few minutes with a fan of women's bodybuilding.
Yours truly and Deb Bixler (Photo credit: Jim Wilmer of http://www.adonisproductions.iwarp.com/)
Bixler is a native of New York who worked 30 years in the corporate world before choosing to strike out on her own in a more entrepreneurial field. If you clicked on her name at the beginning of this blog then you've had an opportunity to learn more about Bixler the businesswoman and public speaker.
A trained chef, Bixler was on vacation in Hawaii when she picked up a bodybuilding magazine and said, "I should do this. I can do this." She began working with a personal trainer and 18 months later would find herself winning a http://www.gaygameschicago.org/images/Sports/Physique/results-physique.pdf in the Masters Women (age 50-59) Physique competition at the Gay Games VII held in Chicago, IL, USA in 2006.
Bixler's participation in the NABBA contest last night garnered her yet another trophy winning experience in both the Over 40 & the Open competition for the 54-year-old competitor.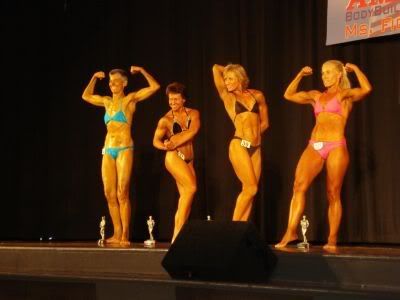 Women's Physique competitors
Back to curt_james's BodyBlog